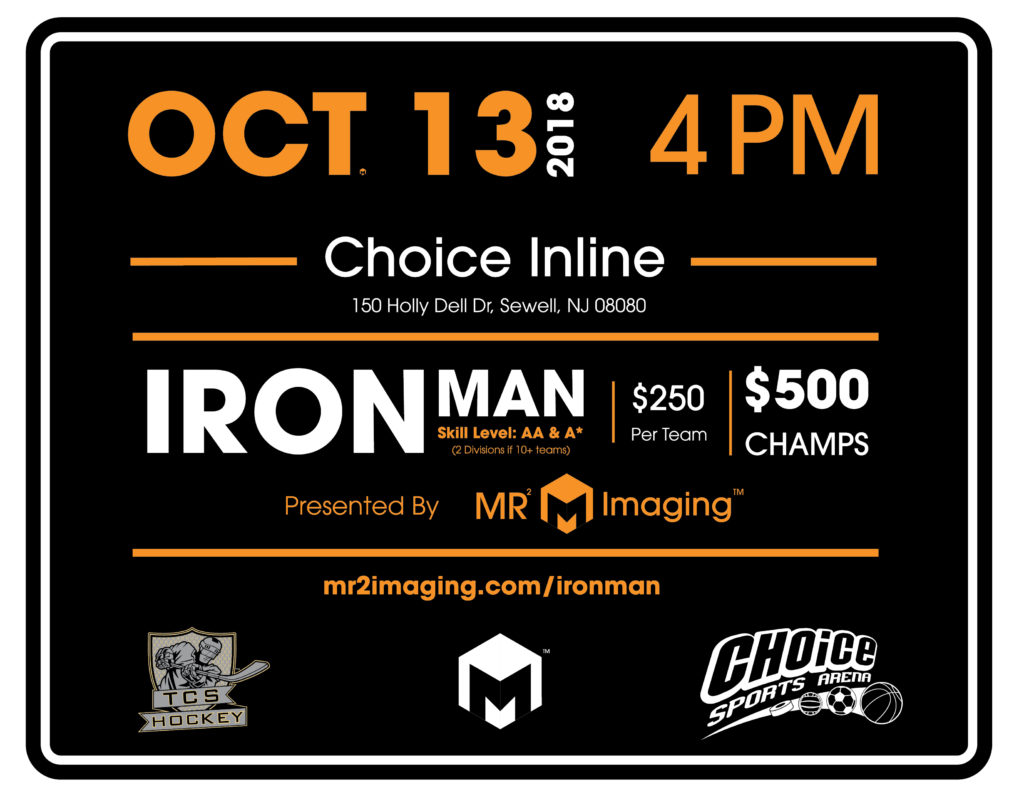 We will be hosting the 3rd Annual MR2 Imaging Ironman on October 13, 2018 at Choice Inline starting at 4pm.
The past 2 years have been nothing but success with close games & some shootouts along the way. 3 out of the last 4 Championship games have made their way into sudden death OT!
\\\\
$500 CASH PRIZE (2 Divisions if 10+ Teams)
/////
This year we are teaming up with TCS Hockey to offer more to our winners. Each winner will receive a $25 TCS Tournament credit to their team fee at the Garden State Cup at Choice Inline, December 28-30th.
Ex: If each player owes $60 for the tournament, you use your credit and owe $35.
(There can be one or multiple Ironman winners using their credit on the same team. *Ironman winners do not need to be on the same TCS team)
Contact Michael Rosmini for more information.
////
Skill Level AA & A**
**We are looking for teams that play Men's league in the local area and we will not be allowing any teams to carry top tier or AAA level players. *NO RINGERS* (Rosters will be submitted prior to event and reviewed to ensure an equal level playing field)
•Entry fee for the tournament will be $250 a team. ($50 a player/goalie)
•Teams will consist of 4 players and 1 goalie.
•5 Game Guarantee (4 Round Robin + 1 Playoff)
• Games will be single period 8 minute games. (Running Clock)
•Penalties: Penalty Shot
Quick Rules
Face off Drop (only drop of the game*)
Puck out of play

ref quickly decides whose possession

*If un-able to determine (tip at the same time) Quick face off, nearest location to the 'imaginary line rule'*

Penalties are penalty shots

Defending team gets puck behind net regardless of goal or save
Clock DOES stop. Starts running immediately after save or goal

5 Goal Mercy Rule
10 min. time slot

8 min game
1 min. warm up
Lets keep this rolling..
Overtime Rules:
Round Robin: Sudden Death Shootout

2 pts W / 1pt L
Away team on schedule shoots first automatically
Playoffs: 3 Man Shootout

All 4 guys must shoot before you repeat lineup

Higher seed chooses shoot 1st or 2nd
FINALS: 3 Minute Overtime; 3 Man Shootout
For More Information or Registration Contact:
Michael Rosmini @ 856.723.6263
Ryan Carr @ 856.581.5556