Sublimated Jerseys
Dye Sublimation is a process of printing to fabric that provides the best quality, most durable printing option. Our designers work with you on the details needing to create your unique uniform. MR2 currently works with several local leagues and businesses, outfitting their teams, coaches, players and fans. We have a variety of athletic apparel for all ages and all sports! Contact us today to start your new dynasty!
You name it, we make it.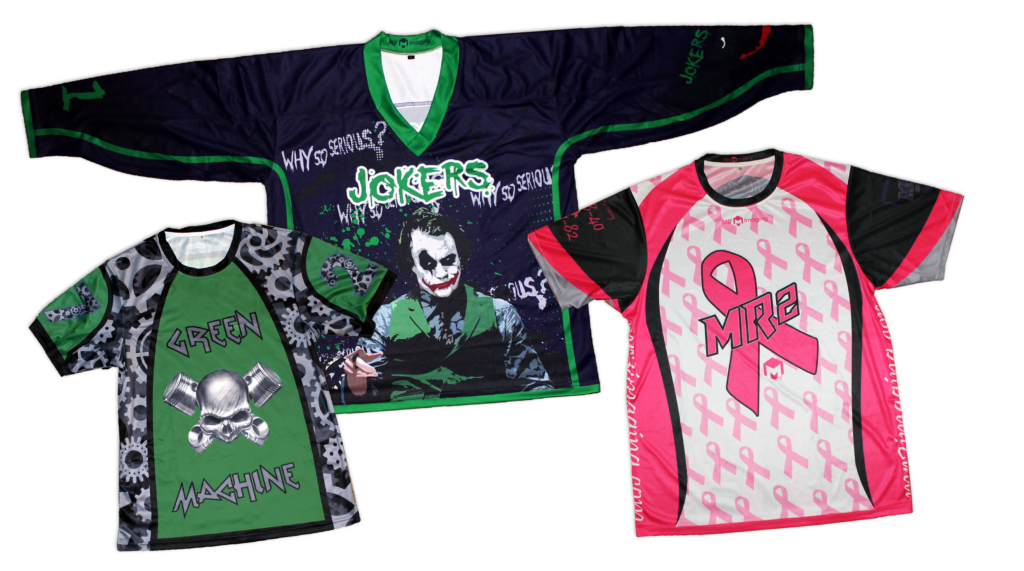 The 3 Period Design Process
Our quick and easy design process features 3 Periods (steps) to get your team in the game. Before we get started, we need to start with a little warm up.
Help us get to know YOU. (Or at least your team name)
Have a logo or an idea? Our designer is ready to create the logo of your new dynasty.
(1) Choosing your fabric
For most sports, we have 3 different fabric styles to choose from.
LIGHT THE LAMP is our signature lightweight mesh. Perfect for Roller Hockey & Basketball.
SILKY MITS is our shine material. Great for Hockey, Baseball/Softball and Soccer with vibrant colors.
THE SHOW is our heaviest material. Great for Ice Hockey & Football, heavy "strong" weight fabric.
(2) Choose your collar
For most sports again, we have 2 different collar options.
ORIGINAL- Basic round collar
 V NECK- V Neck Collar
In addition,
For baseball, we offer BUTTONS in 2, 3 or full button jerseys.
For Hockey, we offer THROWBACK (ties) or DIAMOND.
(3) Approve the Design
The easiest part of the game! Approve the design or make changes as needed and send us your 50% deposit. You already won by choosing us, Send us your winning roster with names, numbers and sizes and your jerseys will be sent into production.
No limits on colors or logos!
No minimum orders
4-6 week delivery
No design fees
100% washable and durable
Discounts available